Complete Intercom & Paging Solutions
Regardless of the size or complexity of your office, an intercom or overhead paging system will allow you to notify your employees and customers, quickly and effectively, without disturbing other departments.  A pleasant ambiance can also be created for your customers with overhead music, when the system is not being used for paging.
By assessing your specific environmental needs, AEGIS Concepts will work with you to determine the most appropriate audio and sound services for your operation. Whatever your company's audio needs, AEGIS has a solution to fit your individual requirements . . .and your budget!
Complete Overhead Paging Systems
Affordable Intercom Solutions
Telephone Paging Systems
Microphone Paging Systems
Paging Speakers
Horn Speakers
Ceiling Speakers
"Invisible" Speakers
Overhead Music Systems
Audio On Hold Systems
A small investment in the right office communications equipment can pay for itself many times over with increased productivity and efficiency and improved customer experience. Call AEGIS Concepts today to find the intercom and paging equipment that will best suit your unique business needs.
Call Aegis Concepts to discuss your Intercom & Paging needs:

586-226-2080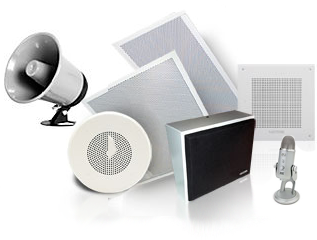 Overhead Paging & Public Address Systems (PA)
The right overhead paging solution can improve efficiency and streamline your operations by connecting your entire office or plant. Get information to one employee, multiple employees or the entire company with the touch of a button.
Overhead paging systems can also be configured to provide a "talk-back system" that enables the person being paged to respond. The talk-back function can even be setup to operate hands free.
AEGIS also offers a unique overhead paging system that will minimize interruptions and send messages only to those who need the information. "Zone paging" will allow you to contact one (or more) designated area in your   operation while not disturbing other areas. This feature is especially useful in large offices, but can be practical in small spaces as well. Zone paging can operate with or without overhead music.
AEGIS paging systems can be configured with a wide array of speakers – ceiling, horn, hanging or "invisible" – and can be operated indoors or outdoors.
Intercom Systems
AEGIS offers all types of easy to operate intercom systems, for large, small or mid-sized businesses. The intercom can be integrated seamlessly into your telephone system, or the hub of the intercom can be installed separately anywhere in your facility for use with a microphone.
You'll be amazed at how streamlined, rapid and efficient inter-office communication can be when you let AEGIS customize an intercom system tailored to your unique needs.
Overhead Music
AEGIS Concepts can also design and install a music system to provide a pleasant atmosphere for your employees and clientele. Studies show that background music not only enhances your customers' experience, but is also is proven to increase worker productivity.
Audio on Hold
Statistics prove that callers experiencing silence while on hold are more likely to terminate the call than those who are listening to something. AEGIS Concepts can install an easy to use device that will create a soothing waiting experience for your callers.
The most commonly used audio-on-hold is music, but digitally recorded messages also can be used to effectively advertise your services while holding your customer's attention. We can create premium quality promotional messages – using professional talent – that are customized to your company's needs.
Ring Systems
Ring systems are used to alert certain individuals of specified activity within your operation. After hours, large facilities often use a night ringer, which broadcasts an audible signal through the loud speaker to notify of visitors or incoming calls. Another beneficial system we offer utilizes "distinctive ring tones", which can differentiate between ringing phones in different locations such as sales offices, customer service groups, and telemarketing centers.